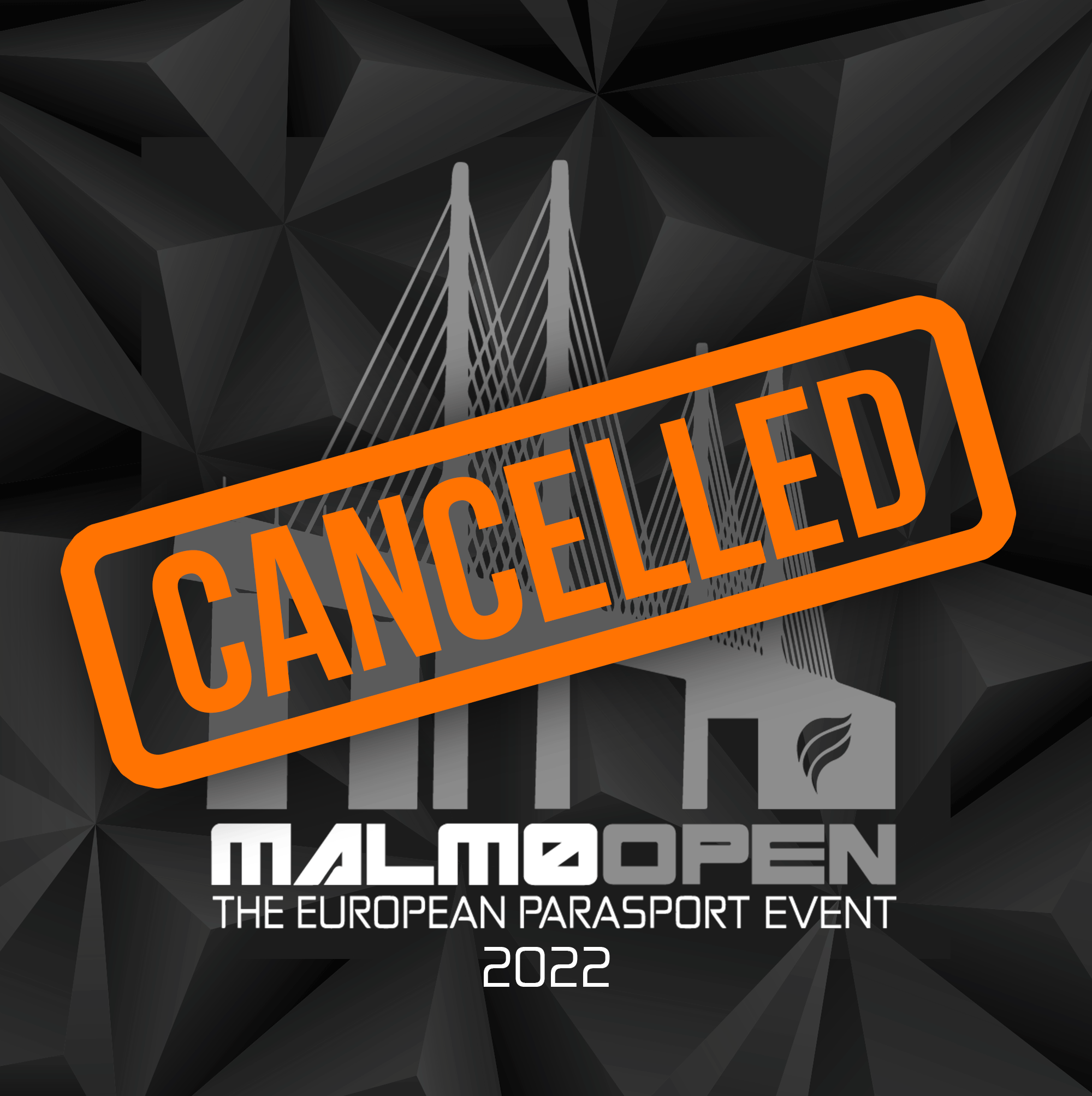 Dear Malmö Open athletes, coaches, partners, volunteers and visitors!
We are facing a situation with increased spreading of the Corona virus, both in Sweden and in countries where many of our participating athletes come from. Due to this, the event managing group together with the board of the organizing club FIFH Malmö hereby announce that we will not arrange Malmö Open in February 2022. The event 2022 is cancelled.
For all participants already registered, you do not have to withdraw your registration. The registration will remain in the system and guarantees you a place in the Malmö Open 2023 event. Before the registration for the 2023 event closes in December 2022 we will get in touch with you to confirm whether you are still interested in participate or not. No fees are binding until you have actively replied Yes to keep you registation for 2023 and payed your invoice before Dec 31, 2022.
For registered clubs who have already paid their fees, we ask you to send your bank details to info@malmo-open.com for refund of the whole amount.
We are very sorry for not being able to bring you the parasport event Malmö Open this year either. But don't give up, we will be back stronger and bigger and better than ever as soon as the pandemic allow us to do so in a safe and responsible way.
Stay strong, meanwhile join you local parasport activities, and we look forward to welcome the world again to Malmö the 9th-12th of February 2023.
MALMO OPEN
THE EUROPEAN PARASPORT GAMES
Accessibility & Language during Live Webcast – Malmö Open Studio
The broadcast of Malmö Open 2021 will be held in English, with all verbal parts subtitled.
For visually impaired the most of the show will be accessible since the main parts contain interviews and discussions in verbal form. Unfortunately movies and photos are not verbalized for visual impaired.
The organizer of Malmö Open prioritize accessibility, and to verbalize the show is on the list for future improvement.
During the Webcast (Sat Feb 13th at 13.00 CET) a visual interpretation / verbalization in written form can be found HERE right below.
Visual interpretation / verbalization
Visual interpretation / verbalization
of non-verbal parts of the Malmö Open – Digital version
13.00
When the jingle melody is played all partner and sponsor logos for the event is in the picture. The logos are;
Folksam, Holmbergs, Intersport, Malmö Stad, Tillsammans För Fler i Rörelse, Jysk, Klimatregelering AB, Lions, Coloplast, Adidas, Peak, Parkering Malmö, Nordströms Assistans, Salto, Scandic.
13.02 (≈ 5 min)
A "recap" with videos and photos from the sport competitions in Malmö Open 2020 is displayed. The sports are:
Wheelchair Basketball, Goalball, Football, Boccia, Table Tennis, Wheelchair Floorball, Floorball, Para Ice Hockey, Electric Hockey, Swimming, Bowling, Cue Sport.
"Be ready for Malmö Open – The European Parasport Event, February 10-13, 2022"
13.13 (≈ 1 min)
Malmö Open history timeline
1977 – The first Malmö Open was arranged.
1979 – New record with 265 participants
1984 – Biggest parasport event in Sweden
1984 – 868 participants and a lot of new records
1996 – More than 1500 participants in 10 different sports
Foreign news papers publish articles about Malmö Open
2002 – Malmö Open poster
2009 – "The four guys" showed up for the first time (photo of a poster with four siluetes of sport athletes with disabilities)
2012 – Poster from MO:12 (the four men on a yellow background)
2016 – The 40th anniversary
2018 – Malmö Open goes digital with the new app for iPhone and android.
2021 – The digital edition.
13.22 (≈ 1 min)
Video film showing parasport athletes in their sporting environments;
Runner with one arm shorter than the other, getting ready to start on an outdoor red track and filed stadium.
Swimmer with downs syndrome jumping into the pool.
Smiling woman in wheelchair playing badminton.
Parasport Føroyar.
13.33 (≈ 1 min)
Video film showing para snow sport. Snowboard, skiing outdoor videos of athletes performing the winter sports.
"For the first time ever, there will be a, snow sports world championships, combining:
Para Nordic skiing, 200 athletes, 20 nations
Para snowboard, 60 athletes, 16 nations
Para alpine skiing, 120 athletes, 25 nations
Lillehammer, Noway, 8-23 January 2022
13.39 (≈ 1 min)
Video film showing winter para snow sport.
World para snow sport championships 2023, Sweden.
Snowy sunny pictures, with parasport athletes.
Welcome to Sweden.
World para snow sport championships 2023.
13.50 (≈ 3 min)
Video film showing City of Malmö.
It's a calm city. I'm proud to be living here in Malmö. Malmö is the best city. This is my home, that's just the way it is.
Video footage of skateboarding, turning torso, the sea, the parks, the city life, smiling people.
The Public bath house and spa dates back to 1898 and is open year round.
Malmö saluhall fod market. The local foodies transformed an 18th-century warehouse into this vibrant food paradise. Here you'll find fresh local products and food from around the world. "Right now, I'm preparing biang biang noodles. The name comes from the sound that the dough makes when it hits the counter. If you're a foodie you must come to Malmö. We have a huge variety of foods.
Yalla Trappa – women's cooperative. "Pretty much everyone who lives in Malmö knows about Yalla Trappan." The social enterprise includes a restaurant, catering and sewing services. "Our goal is to create jobs for women and to get them out of the house." They collaborate with major Swedish companies like IKEA and H&M. "We have a great mix of Swedes and immigrants from lots of different countries. There's lots of joy. There's action here in Malmö"
Skateboardtjej åker under en tunnel med målad text "Rosengård, Man kan ta en kille från Rosengård men man kan inte ta Rosengård från en kille".
Södra Förstadsgatan shopping street. From designer fashion to on-of-a-kind boutiques, Södra Förstadsgatan is Malmö's shopping hub. It forms parat of a 2 km stretch lined with some of the most popular boutiques, restaurants and cafés.
Malmö has 16 parks within its city centre, offering a wealth of outdoor activities.
Pildammsparken. "I've lived here for about 25 years. The atmosphere is nice and relaxed. It's a big small town, if you will." "I like Malmö because it's pretty convenient city. You can take your bike and quickly get to wherever you want to go. The sea is ten minutes away, this park Is ten minutes away… And then you can bike to work.
Folkets Park. Folkets park contains plenty of family activities, nightclubs and restaurants.
13.58 (≈ 2 min)
Videos showing para athletes doing adapted training during the pandemic. Male para athlete running on a treadmill. Male para athlete weightlifting. Para ice hockey player doing triaining in a garage. Group of mainly older people doing group exercise in a park.
14.00 (≈ 1 min)
Video film showing athletes playing volleyball. Football, skateboard, floorball.
Moving". To be active is joy, therefore Svenska Spel is working together with Swedish Sports Federation to encourage physical activity through "Together to get more people moving. By knowledge and creativity we can inspire more people to become active. Together we can make a huge different. Through sponsor deals and the foundation the sport federations can apply for money to gain physical activities for kids, youth, adults and elderly to get moving. The cooperation already made more than 200.000 people moving! Now we are working even further to get more people active regardless of preconditions and level.
Together to get more people moving. Sport Sweden. Svenska Spel.
14.36 (≈ 1 min)
The parasport trick challenge.
Damir Rimac. Table tennis player doing a hit behind his back.
Peter Rosenmeier. Table tennis player playing a ball around the net (slow motion).
Andrée Hultén. Floorball player doing a beautiful goal running around the goal keeper.
Christian Seidel. Wheelchair basketball player scoring from a long distance.
Fatmir Seremeti. Goalball player kicking a Goalball ball with his feet up in the air, moving 180 degrees, collecting the ball with hands and shooting to the other goal.
Jasta-Japan. Tennis girl shooting a tennis ball in a whole in the net.
15.06 (≈ 1 min)
Video. Are you ready? Video clip of wheelchair basketball match. Malmö Open logo in black and orange. Think big, act bold, get involved. Football and Floorball match played. #Malmop City pictures of Malmö. The medals. MO22- 10-13 February 2022.
FIFH Malmö Parasport since 1956 with co-organizers Parasport Sverige and Malmö Stad.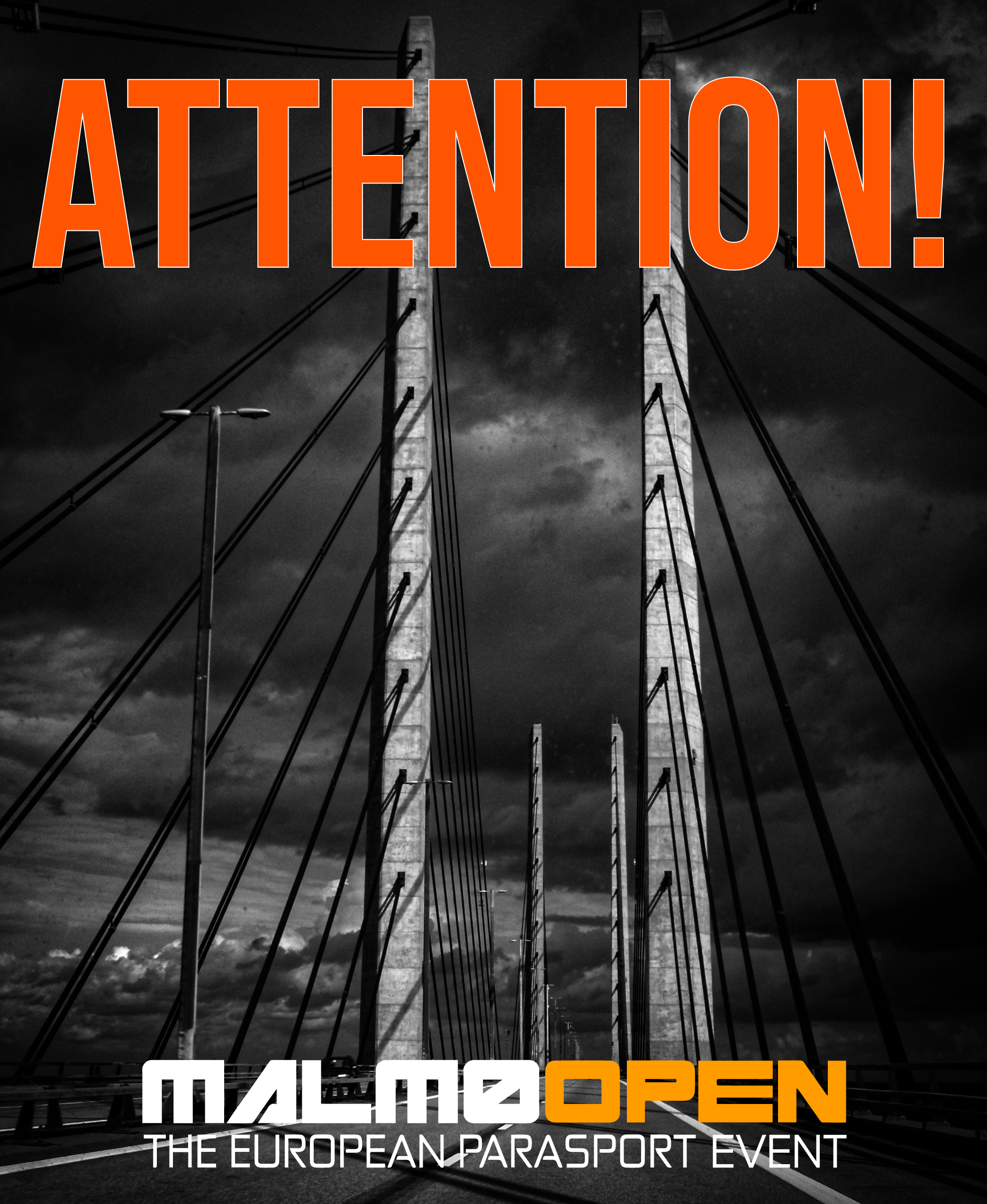 Dear Malmö Open athletes / coaches / teams!
Right now we are facing many questions and unclarity regarding the Corona Pandemic, and we as organizer would like to inform you about how we handle the current situation, cancellation policies etc.
The Swedish Government has recently (Dec 7, 2021) presented a 3 step plan. Step 1 was implemented from Dec 8, and has no restrictions which affect sport or sport events. The only restriction regarding events at the moments was implemented Dec 1 and concerns vaccine pass. Audience and visitors of events are required to have a vaccine pass. To meet this recommendation Malmö Open has decided to be an event ONLY for the accredited athletes, coaches, volunteers/referees and companions of athletes. No general audience will be allowed in the venues.
Step 2 of the Corona restriction plan from the Swedish Government is not implemented yet, and we don't know if or when this step will be active. If step 2 is activated, it means that no matches or tournaments for adults shall be arranged. For Malmö Open that would mean the event will not be arranged.
Right now Malmö Open keeps the registration open as planned, until December 19. You are very welcome with your registration! All registration will now find a new section if you log in to the team account, which enable coacher/leaders/companions to register to be accredited to access the venues.
The upcoming week the organizer will follow the development and take all possible actions to investigate whether it is likely that an event taking place in February 2022 will be possible or not, due to the restrictions expected to be applied at the time of running the event (Feb 1013, 2022).
Before registration closes (latest Dec 19), all registered clubs will be informed regarding the decision of whether Malmö Open 2022 will be arranged or cancelled. In case of cancellation of course fees already payed will be reimbursed, and all registered clubs can ignore the invoice for the event in their team account.
Our aim is to do everything we can to make Malmö Open 2022 happen in a safe and responsible way. You will hear from us very soon again. If you haven't registered yet please do! And if we don't see you in 2022 we will definitely make sure you will have a secured opportunity to participate in Malmö Open 2023.
Best regards, The Malmö Open Crew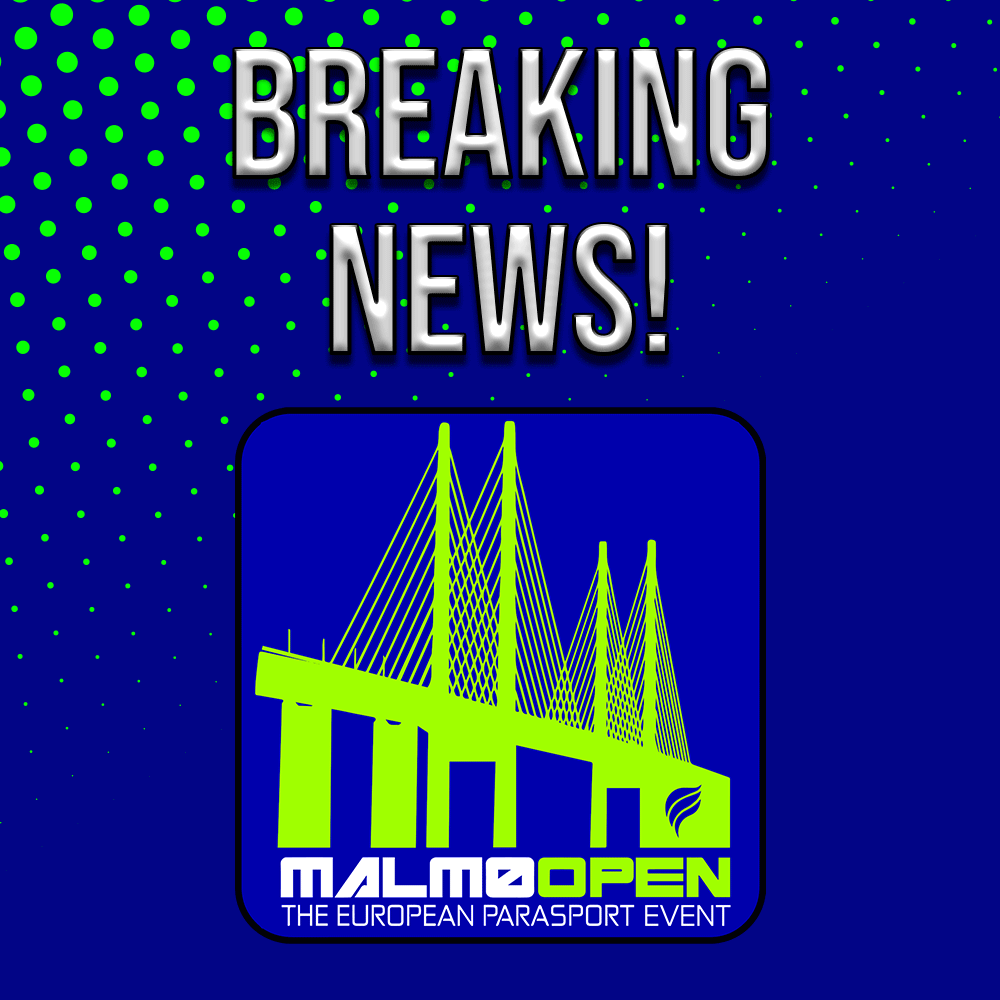 Update Malmö Open 2021
The planning of Malmö Open has, due to the current Pandemic in the world, become an exciting process with many choices of paths. Early during spring 2020 the planning kick off for this event which is one of the largest annual multi parasport events in the world. Already before summer 2020 there was a couple of different scenarios defined for how to perform MO21, depending on hos the Covid-19 situation developed.
Today it's 2 months until the implementation of the event. The project groups, board and competition committees for Malmö Open had a rollercoaster during the last month trying to keep track of the development of the situation. There has been several creative meetings, dialogues and plans to map out how different competition forms could possibly take place.
With the background of the total development and worsened situation with sharpened restrictions for Sweden and the Region of Skåne, the board of Malmö Open Dec 1 2020 took the decision to further plan for a digital event alone for Malmö Open 2021. There is no possibilities to implement any kind of physical tournaments in any parasports the second weekend in February 2021.
To replace this a digital live broadcast will take place Saturday the 13th of February 2021. There will be several of the Malmö Opens sports and athlets visible in reportages, interviews, discussions and exhibition events. There will after all, even though not as nice and physical present format, still be a digital meeting place and forum for the parasport and para athletes from all over the world, which Malmö Open always has been. The broadcast will be backflashes from he 45 year old history as well as glimpses of the future of Malmö Open. Welcome to Malmö Open 2021!
We would like to say Thank you for everyone who registered in First Entry for Malmö Open, and of course look forward to offer you nice sports competitions in the future when the situation looks different.
Best regards, Malmö Open
@malmoopen #malmop
_______________________________________________________
Uppdatering Malmö Open 2021
Planeringen av Malmö Open har pga den Pandemi som utbröt i världen för ett halvår sedan, blivit en spännande process med många vägval. Tidigt under Pandemin, under våren 2020, påbörjades planeringen av Malmö Open, som är ett av världens största årligen återkommande multiparasportevent. Redan innan sommaren fanns ett antal olika scenarios för hur MO:21 kunde komma att se ut, beroende på hur situationen med Covid-19 utvecklades.
Idag är det drygt två månader kvar till genomförande. Såväl Projekt- och Styrgrupp som Tävlingsledningar för Malmö Open har under hösten haft lite av en berg- och dalbana för att följa hur läget utvecklats. I olika kreativa möten, dialoger och planeringar har det kartlagts och anpassats vilka varianter av tävlingsformer som skulle kunna vara möjligt att genomföra.
Med bakgrund av den totala utveckling och situationen med skärpta råd och restriktioner som gäller i Sverige idag, har Malmö Opens styrgrupp den 1 dec 2020 tagit beslutet att nu endast gå vidare med en helt Digital form av Malmö Open 2021. Det kommer alltså tyvärr inte att kunna genomföras några fysiska tävlingar i någon av idrotterna den andra helgen i februari 2021.
Istället kommer det att ske en digital livesändning lördagen den 13 februari 2021. Här kommer ett flertal av Malmö Opens idrotter och aktiva idrottsutövare att synas i form av reportage, intervjuer, diskussioner och uppvisningar. Det kommer trots allt, om än i ett inte lika trevligt och fysiskt närvarande format, fortfarande att bli en digital mötesplats och forum för parasporten och paraidrottare från hela världen som Malmö Open alltid har varit. Under sändningen kommer vi både att blicka bakåt och framåt i Malmö Opens 45-åriga historia. Varmt välkommen till Malmö Open 2021!
Vi vill rikta ett stort tack för att ni registrerat er och visat intresse för att delta i Malmö Open, och ser självklart fram emot att erbjuda er möjlighet till idrottstävling längre fram när läget ser annorlunda ut.
Bästa hälsningar från Malmö Open
@malmoopen #malmop