MALMO OPEN
THE EUROPEAN PARASPORT GAMES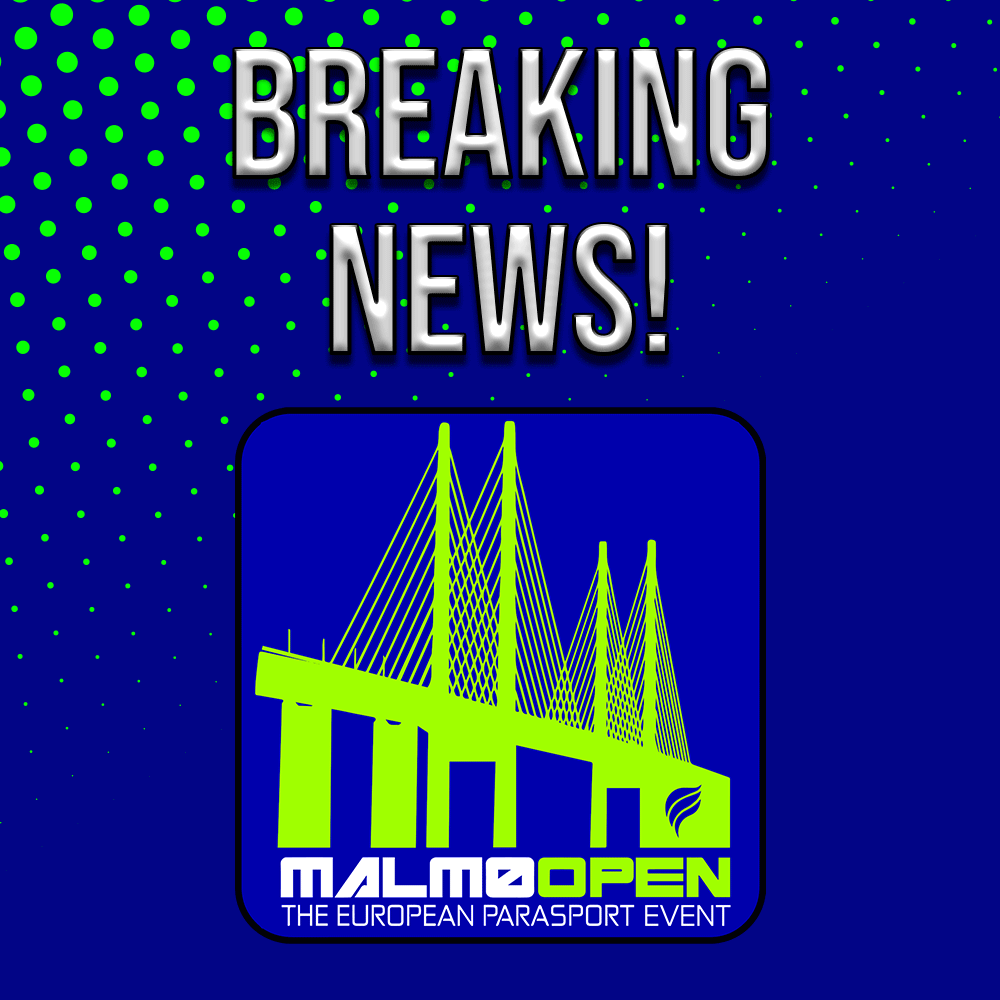 Update Malmö Open 2021
The planning of Malmö Open has, due to the current Pandemic in the world, become an exciting process with many choices of paths. Early during spring 2020 the planning kick off for this event which is one of the largest annual multi parasport events in the world. Already before summer 2020 there was a couple of different scenarios defined for how to perform MO21, depending on hos the Covid-19 situation developed.
Today it's 2 months until the implementation of the event. The project groups, board and competition committees for Malmö Open had a rollercoaster during the last month trying to keep track of the development of the situation. There has been several creative meetings, dialogues and plans to map out how different competition forms could possibly take place.
With the background of the total development and worsened situation with sharpened restrictions for Sweden and the Region of Skåne, the board of Malmö Open Dec 1 2020 took the decision to further plan for a digital event alone for Malmö Open 2021. There is no possibilities to implement any kind of physical tournaments in any parasports the second weekend in February 2021.
To replace this a digital live broadcast will take place Saturday the 13th of February 2021. There will be several of the Malmö Opens sports and athlets visible in reportages, interviews, discussions and exhibition events. There will after all, even though not as nice and physical present format, still be a digital meeting place and forum for the parasport and para athletes from all over the world, which Malmö Open always has been. The broadcast will be backflashes from he 45 year old history as well as glimpses of the future of Malmö Open. Welcome to Malmö Open 2021!
We would like to say Thank you for everyone who registered in First Entry for Malmö Open, and of course look forward to offer you nice sports competitions in the future when the situation looks different.
Best regards, Malmö Open
@malmoopen #malmop
_______________________________________________________
Uppdatering Malmö Open 2021
Planeringen av Malmö Open har pga den Pandemi som utbröt i världen för ett halvår sedan, blivit en spännande process med många vägval. Tidigt under Pandemin, under våren 2020, påbörjades planeringen av Malmö Open, som är ett av världens största årligen återkommande multiparasportevent. Redan innan sommaren fanns ett antal olika scenarios för hur MO:21 kunde komma att se ut, beroende på hur situationen med Covid-19 utvecklades.
Idag är det drygt två månader kvar till genomförande. Såväl Projekt- och Styrgrupp som Tävlingsledningar för Malmö Open har under hösten haft lite av en berg- och dalbana för att följa hur läget utvecklats. I olika kreativa möten, dialoger och planeringar har det kartlagts och anpassats vilka varianter av tävlingsformer som skulle kunna vara möjligt att genomföra.
Med bakgrund av den totala utveckling och situationen med skärpta råd och restriktioner som gäller i Sverige idag, har Malmö Opens styrgrupp den 1 dec 2020 tagit beslutet att nu endast gå vidare med en helt Digital form av Malmö Open 2021. Det kommer alltså tyvärr inte att kunna genomföras några fysiska tävlingar i någon av idrotterna den andra helgen i februari 2021.
Istället kommer det att ske en digital livesändning lördagen den 13 februari 2021. Här kommer ett flertal av Malmö Opens idrotter och aktiva idrottsutövare att synas i form av reportage, intervjuer, diskussioner och uppvisningar. Det kommer trots allt, om än i ett inte lika trevligt och fysiskt närvarande format, fortfarande att bli en digital mötesplats och forum för parasporten och paraidrottare från hela världen som Malmö Open alltid har varit. Under sändningen kommer vi både att blicka bakåt och framåt i Malmö Opens 45-åriga historia. Varmt välkommen till Malmö Open 2021!
Vi vill rikta ett stort tack för att ni registrerat er och visat intresse för att delta i Malmö Open, och ser självklart fram emot att erbjuda er möjlighet till idrottstävling längre fram när läget ser annorlunda ut.
Bästa hälsningar från Malmö Open
@malmoopen #malmop